Youth Club Pom Pom and Finger Knitting party
The youth at Spotlight (the youth centre) had a great time making pom poms this week.
we used the method where you wrap the yarn around your hand instead of those awkward cardboard circles. It worked a treat!
The other technique we tried was finger knitting, which has some similarities to the very popular loom band trend. We couldn't really get it off the ground at this session unfortunately. At least 4 people went home with a finished piece of finger knitting but it didnt take off. It just would have required focus and concentration for about 30 seconds more than was given. At least 4 more kids started and gave up just before they got the hang of it. It also could have worked if one of the louder kids had grasped it early on, but you know how it is with social dynamics, especially after a long hard day at school. Anyway the POMPOMs caught on and they were all addicted to that instead.
also didnt get any good pics of finger knitting becuase my fingers were full of yarn during those times!
I did show them how to trim them 'give them a haircut' but the scraggly pompom look was more fashionable.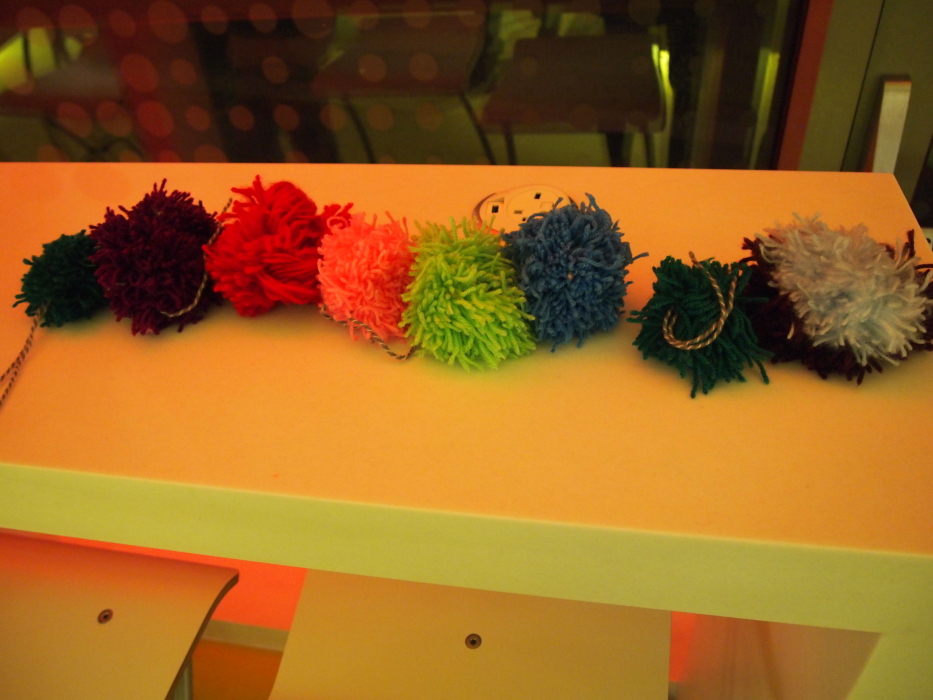 One teenage boy made all these pompoms! 8?! he's going to make a scarf.
This is the easier way to make a pom pom. It does help to have your friend's finger on hand to tie a tight knot.